'No-Dig' Gas Migration Barrier
SEL Environmental Ltd Tel: 01254 589987 Email: sales@selenvironmental.com
Introduction
The Virtual Curtain Gas Migration System will intercept, treat and control lateral migrating ground gas. The system has been used on numerous commercial and residential projects oveer the last 20 years where ground gas within or adjacent to the development posed an issue. The system has been successfully installed on many development sites and is a realistic alternative to a physical gas barrier and gravel vent trench.
This unique patented system comprises a series of vertical vent nodes connected together to create a zone of low pressure within the ground that attracts and dilutes ground gases to acceptable levels, provide an appropriate pathway break and conduit for controlled and safe passive venting to atmosphere. The virtual curtain system can form a fundamental part of any remediation strategy to satisfy the requirements of Part 2A of the Environmental Protection Act (1990) determination and enable developments on contaminated land (closed landfill sites) or near it.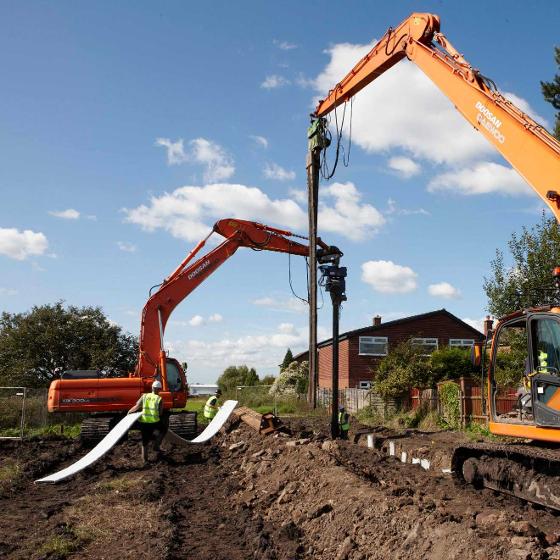 Health & Safety / CDM
Minimal exposure to contamination (e.g. asbestos) for workforce and public.
Gas dispersal is controlled and diluted with fresh air prior to dispersal.
Reduced risk from less vehicle movements and lower plant requirement.
Shallow excavations, less than 0.65m deep.
Minimal open trench required as the installation progresses.
Small working zone made fully secure at the end of each shift.
Robust, vandal resistant dedicated vent terminations, designed for a school environmental.
Financial Benefits
Low mobilisation / start-up costs.
Rapid installation will enhance site programme.
Negates the off-site disposal of contaminated material.
Minimises importation of granular materials.
Low maintenance requirements post installation.
Minimal site disruption of other trades.
Can be installed while other earthwork operations take place, such as ground improvements.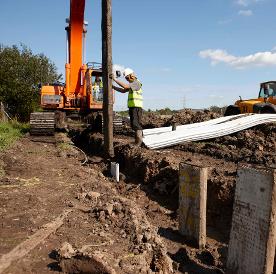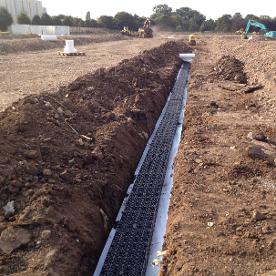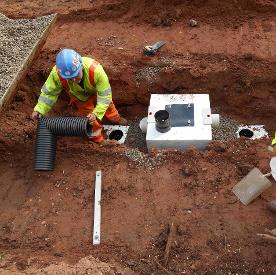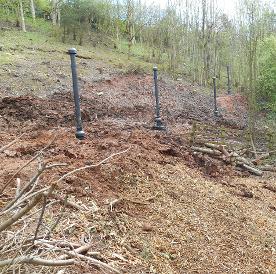 Engineering & Environmental
Predominantly a no-dig solution with a minimal generation of excavated material that is generally from the upper inert capping layer.
Contaminated ground remains in place.
Any arisings are used to backfill over the top duct with any surplus arisings regraded to suit original ground levels.
No dewatering requirements.
No impact on site hydrogeology.
No impact on existing foundations.
Replaces the requirement for aggregate venting media.
Reduces site traffic on existing roads as the venting composites used are up to 100 times more efficient that gravel venting media.
Uses recycled and recyclable materials.
Sustainability
Reduces the environmental impact of your development as it uses recycled and recyclable materials.
Reduces impact of quarrying through low reliance on aggregates.
Reduces impact of tipping / landfill through no-dig installation method.
Requires significantly less lorry movements than alternatives considerably reducing your carbon emissions.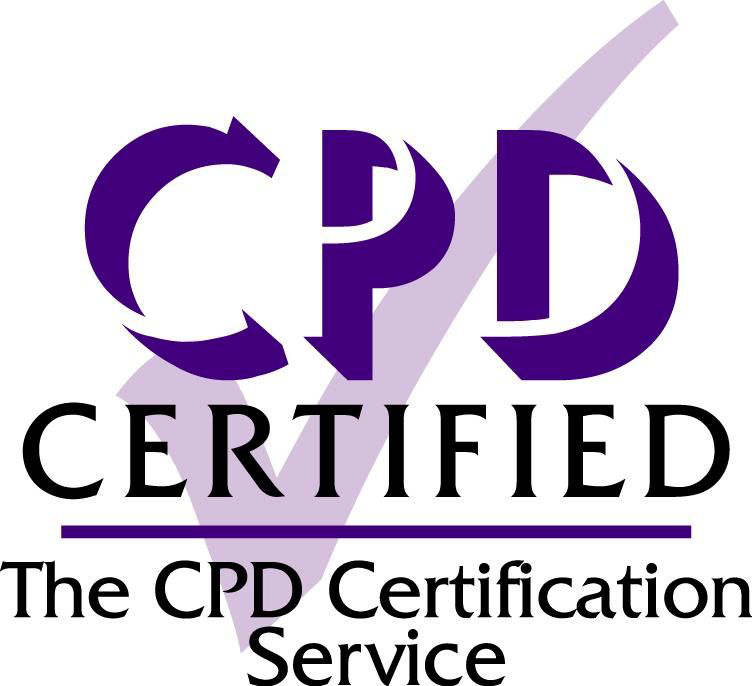 CPD Seminar
SEL are pleased to offer a lunchtime accredited CPD seminar which reviews a new methodology for migrating gas protection from landfill and brownfield sites. The seminar comprises of a 30 minute presentation followed by 30 minutes for questions and answers. The Virtual Curtain CPD seminar covers the following key areas: • Legislation • Risk Management Concept • Design Considerations • Traditional Barrier Methods • Virtual Curtain System – How it Works • Design Methodology • Validation Trials • Case Study • Summary of Benefits. If you are interested in arranging a CPD for your office, please contact us
Other SEL websites which might be of interest...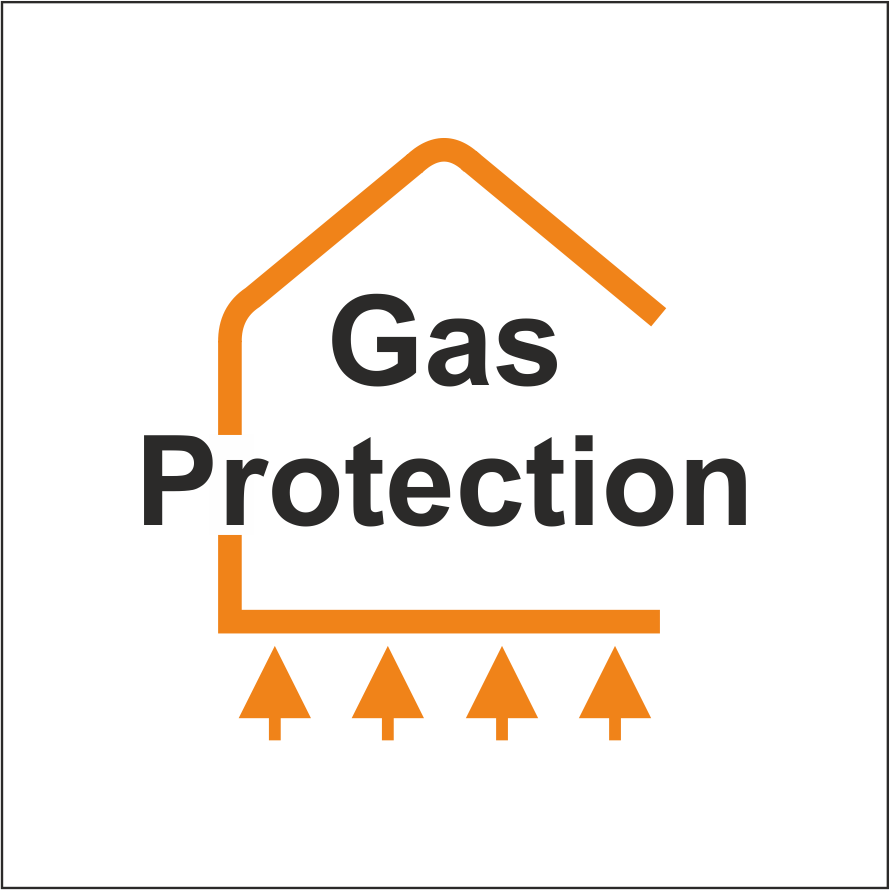 www.ground-gas-protection.co.uk
SEL Gas Protection Division can provide a single point of contact to all parties involved in the design, supply, installation and validation of a complete gas protection system for new build and retrofit installations to housing and commercial developments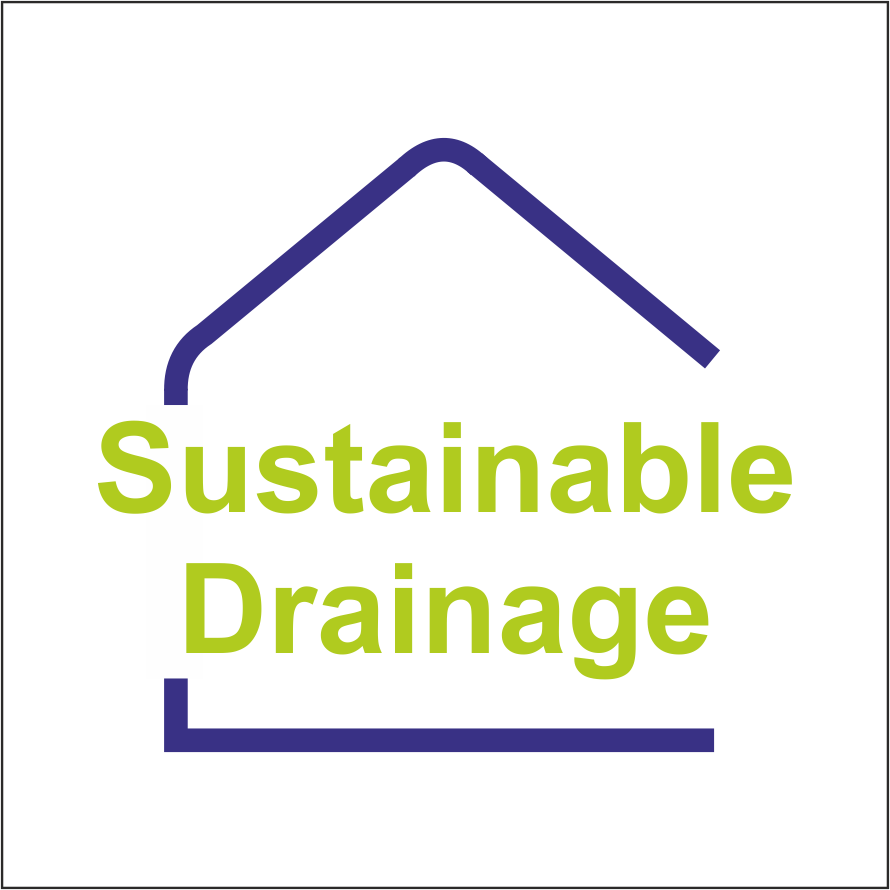 SEL Source sustainable drainage solutions, products and services, ideal for contaminated sites where a shallow solution will keep the installation within inert soils. Solutions to satisfy LLFA, current guidance and legislation, for housing and industrial developments